BEFORE YOUR VISIT
Pre-visit planning trips
We encourage those who have made a booking to come on a pre-visit planning trip, to familiarise yourself with Jodrell Bank and complete a risk assessment. Please bring proof of your booking to enable free entry to the site.
If coming solely for a planning trip, your car park ticket will also be validated free of charge. If you are combining your planning trip with a general visit, the usual parking charge will still apply, as well as admission for any accompanying people.
Risk assessments
All available risk assessments can be downloaded here:
Special Educational Needs
A the point of booking, we will ask you if any of your students have accessibility or special educational needs (SEN). You can also contact us in advance to help ensure your students get the most out of their day. For more information our Access Statement is here.
Your itinerary
You will receive a detailed itinerary as well as a map of the site around two weeks before your visit. If, for any reason, you need your itinerary before that, don't hesitate to contact us.
During your trip your group(s) will be timetabled for:
Your Space Dome and Explainer-led sessions.
A lunch slot.
Any remaining time in our exhibition spaces (self-guided time).
If you have booked for more than one group, each group will follow a separate itinerary during the day. It is important that you are as prompt as possible for your Space Dome, workshop sessions and lunch slot as other groups are also likely to be scheduled in during the day.
We will try our best to work around any unforeseen circumstances during the day. This may include altering your itinerary. However, please note that if your group's arrival is delayed, we are unable to delay start times for Space Dome and sessions.
Worksheets
Please note that apart from any sessions, your group will be self-guided around the Jodrell Bank. To help you around our exhibitions, we have created a set of worksheets that you can download, print, and bring with you on the day.
YOUR VISIT
What to bring on the day
Your itinerary – this will be sent to you via email before your trip
Worksheets – these will help your learners gain more from the exhibitions and can be downloaded from our website ahead of your visit
Packed lunches – we recommend reusable lunch boxes to cut down on single-use waste. Please note, our lunch trolleys are not big enough to hold full group set of backpacks
Weather appropriate clothes for learners to explore our outside areas
For young groups arriving on coaches, we also advise you bring at least one set of spare clothes in case someone gets travel sick.
Getting to us & access to the site
You can find directions here. The postcode to use for sat-navs is SK11 9DW and our entrance lies on Bomish Lane, just off the A535.
Access to our car park is controlled by a barrier. Your driver will have to follow the instructions and take a ticket. Parking is free for coaches and minibuses, but you will need to get your ticket validated at reception in order to leave site.
Coaches can park on the left-hand side of the car park, along the fence line. Coach drivers are given free admission to Jodrell Bank for the day.
Upon arrival
Upon arrival, please head to the gold ticket booths to sign in your group. Please note, we cannot allow your group into Jodrell Bank before 10am. If you arrive early, you are welcome to wait on our picnic benches in front of our entrance building.
Lunch
Your group will be allocated a 30 minute lunch slot in one of our indoor picnic areas. The time and location will be stated in your itinerary.
Please be as prompt as possible as other groups will likely be booked in before or after you.
Upon arrival, your group can deposit their lunches in one of our lunch storage trolleys.
We recommend that learners bring lunches in reusable lunch boxes to cut down on single-use waste.
Your trolley will be taken to your lunch area for you.
We will provide you with two bin bags for your lunch waste – a clear one for recyclable items and a black one for non-recyclable items.
After your lunch, please place your bin bags in your lunch trolley and make sure the area is clean and tidy.
We kindly ask that an adult member of your group returns your trolley to the storage area.
If your group would prefer to eat outside, we have plenty of outdoor picnic spaces available around the site which you are welcome to use.
From 4th June 2022, The First Light Pavilion café will be open from 10am to 4.30pm, where adult members of your group can purchase hot and cold drinks. Please note there may be a wait, especially during busy times.
Toilets
Toilets (including accessible facilities) are available in each of our buildings. Please note the number of toilets in each building is limited; you may find it easier to split your group and visit different buildings.
First Aid
If any of your group should require first aid, please contact a member of Jodrell Bank staff. There are always first aiders on site during opening hours and our staff will provide assistance. Our site is also equipped with two automatic defibrillators.
Please do not use your mobile phones. If you need to use a phone, please see a member of our staff, who will help you.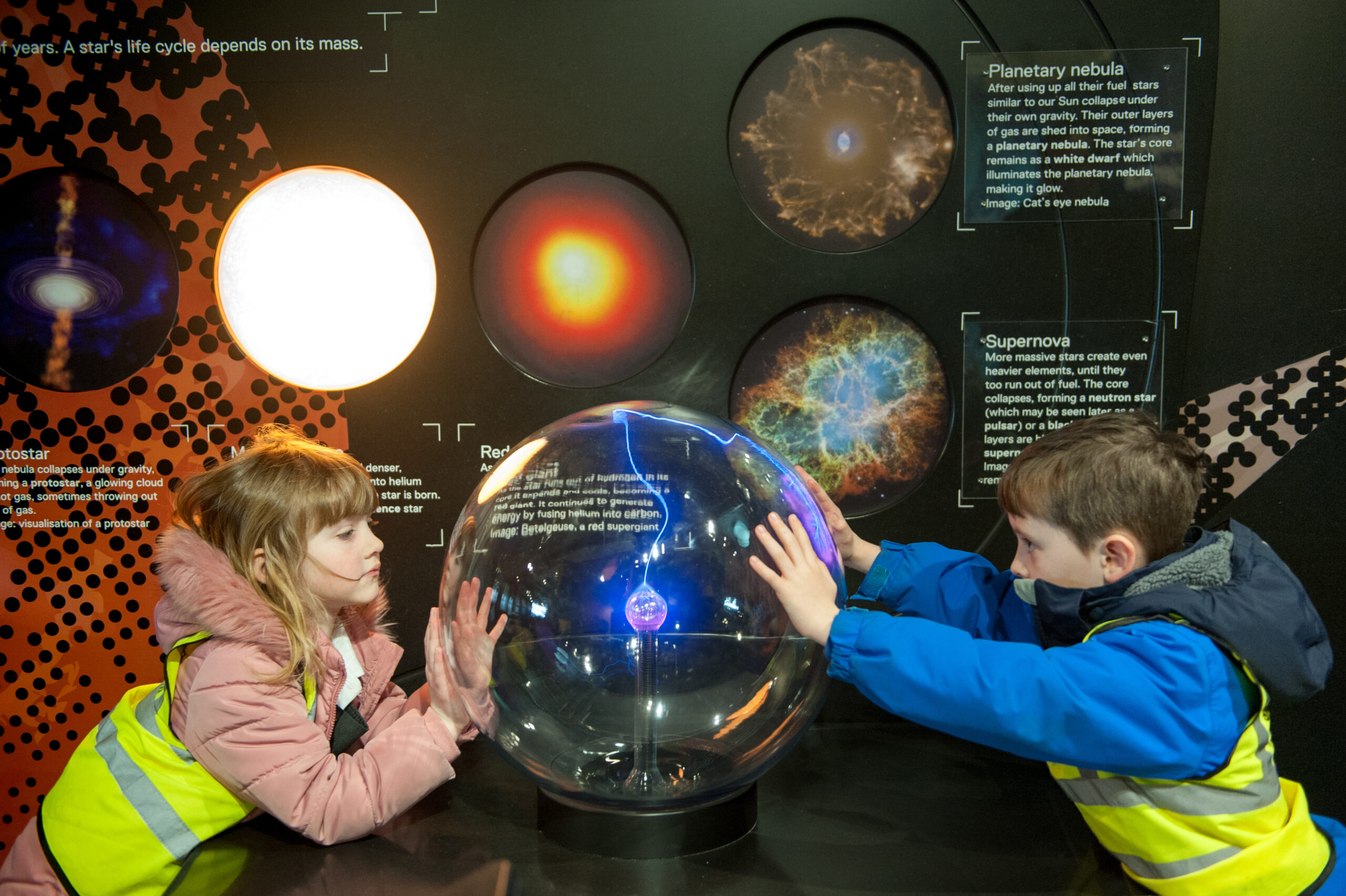 WHAT'S HERE?
Jodrell Bank consists of:
Four buildings: the First Light Pavilion (from 4th June 2022), the Planet Pavilion, the Space Pavilion, and the Star Pavilion
A large outdoor area surrounding the Lovell telescope
35 acres of gardens and grounds, including a playground
The giant Lovell Telescope!
Please note:
We are open to the public from 10am to 5pm daily, so your group will likely be sharing our spaces with other people.
The Lovell telescope is sometimes undergoing maintenance; during these times it will not be observing or moving.
The observatory is a working environment and the Lovell telescope is in use 24 hours a day, 365 days a year.
The First Light Pavilion
This is our newest building, containing exhibitions related to the history of Jodrell Bank, and our new Space Dome. It also contains the First Light Café and a temporary exhibitions space.
During your visit, your group will have times to freely explore the First Light Pavilion exhibition.
The Planet Pavilion
This building contains the Planet Café, the gift shop and an exhibition space with clockwork orrery; a giant model of the moving Solar System. During your visit, your group will have times to freely explore this space.
The Space Pavilion
This building contains an exhibition and one of our lunch spaces: the Events Space.
During your visit, your group will have times to freely explore the exhibition which consists of:
A live data feed from the Lovell telescope
A hands-on model of the Lovell telescope
Interactive interviews with some of the scientists and engineers who work at Jodrell Bank
An infrared thermal camera
The gravity well; a hands-on model of a black hole
The 'Big Bang cone' playing the 'sound' of the first 100 million years from real data
A usable, see-through Newtonian telescope
Information about the biggest telescopes around the world
The Star Pavilion
The Star Pavilion contains a large teaching space. KS2-5 groups will have one of their Explainer-led sessions here, presented to multiple groups together, at the same time.
Outside exhibits
Jodrell Bank has a number of outdoor exhibits and activities that you can explore as part of a self-guided visit. Remember to bring weather-appropriate clothes.
Our outdoor exhibits include:
The Telescope Pathway: Information boards along the way tell the story of the construction of the Lovell telescope and provide information about some of the objects it observes.
Outdoor interactive exhibits: Find out more about Jupiter's rotation, plus experiment with gravity just like Galileo!
The Whispering Dishes: These demonstrate, using sound, how the curved shape of the Lovell telescope amplifies faint signals.
Gardens and Grounds
Jodrell Bank is a 35 acre green site with gardens, wildlife areas and an Arboretum. You will not be allocated time in the grounds as part of your itinerary. However, you are welcome to stay later to explore them. If doing this, please allow the extra time you need,
Gift Shop
As you exit, you'll pass through our gift shop. Your group are very welcome to browse and buy but please note that we expect the end of the scheduled school day, 2pm, to be busy.
PLEASE REMEMBER
Your role on the day
Children must be accompanied by responsible adults for the duration of your visit. Please also ensure the ratio of accompanying adults to children is appropriate for your group, and in line with relevant institution policies. If the person who booked the trip is not attending on the day, the organiser must ensure all relevant information relating to the trip is passed to the relevant staff.
Mobile phones
Mobile phones interfere with our radio telescopes, which are in use 24 hours a day. We therefore operate a radio-quiet policy and require that all visitors set their phones to flight mode, or switch them off.
If you may need to be contacted during the day, please give out our main reception line: 01477 571 766. Our staff will then relay the message to you. Similarly, if you need to make a call during your visit, you are welcome to use one of our landlines; simply ask a member of our staff.
You are still welcome to use your mobile to take photos; provided it is set to flight mode.
Film and Photography
You're welcome to document your experience via film and photography. We entrust that you have secured your own permissions for photography and remember you may be in a session with another school group where students may not have given consent. Please also note that we do not permit filming of our presenter-led sessions and Dome Shows.