Welcoming students for the new Cold War, Space Race and Jodrell Bank study day
Posted 30 Jan, 2023
It is well-known that Jodrell Bank was involved in the Space Race in the 1960s, tracking American and Soviet space probes and collaborating with the superpowers simultaneously. But why did this come about? Were the motivations simply scientific or was there more to it?  
These are questions that 50 GCSE and A-level History students explored at the first of our revamped Cold War, Space Race and Jodrell Bank study days.  
The day is a collaboration with our colleagues from the University's Widening Participation department and Faculty of Humanities, and is designed to give a taster of what it's like to study History at university level.  
To start the day, students gathered in the Space Dome to hear mini lectures from Dr Tom Tunstall Allcock from the History department and Dr Rachel Platanov from Russian Studies, on the American and Soviet perspectives on the Space Race.  
After lunch they took part in a primary sources enquiry workshop, analysing images, documents and film material from the Jodrell Bank archive, to discover the motivations behind Jodrell's involvement in the Space Race.  
This topic has not been extensively researched, so students had the opportunity to find genuinely new historic interpretations. And there were some fascinating findings; Jodrell Bank's seemingly official relationship with the Americans versus a more informal relationship with the Soviets; the ways that Lovell skilfully navigated the British public's anti-Russian feelings; and, how he capitalised on 'space race fever' to the benefit of Jodrell Bank. 
This is the first time we've been able to run the study day since the pandemic and opening our First Light Pavilion. It was wonderful to use the Space Dome and the exhibition as part of the day, treating students to the unique experience of a lecture in our immersive theatre space. And thanks to the extensive archival research we have done over the past three years, we now have some rare and unique primary sources to use in the workshop.         
Immediate feedback suggests it was a fun, inspiring and challenging day! We will be running these sessions on site again next year, meanwhile we'll be creating some downloadable resources based on the session, so teachers and students can explore this fascinating piece of history in the classroom.  
"So good to be back @jodrellbank for our Cold War Workshop with Dr Tunstall Allcock @UoMhistdept and Dr Platonov @UoMLanguages, exploring the Space Race & the role Jodrell Bank played. Great source analysis by students from @StJohnRigby & @HydeHighSchool 👩‍🎓🧑‍🎓👏"
#SALCSchools https://t.co/9x3p0M9vW8″ / Twitter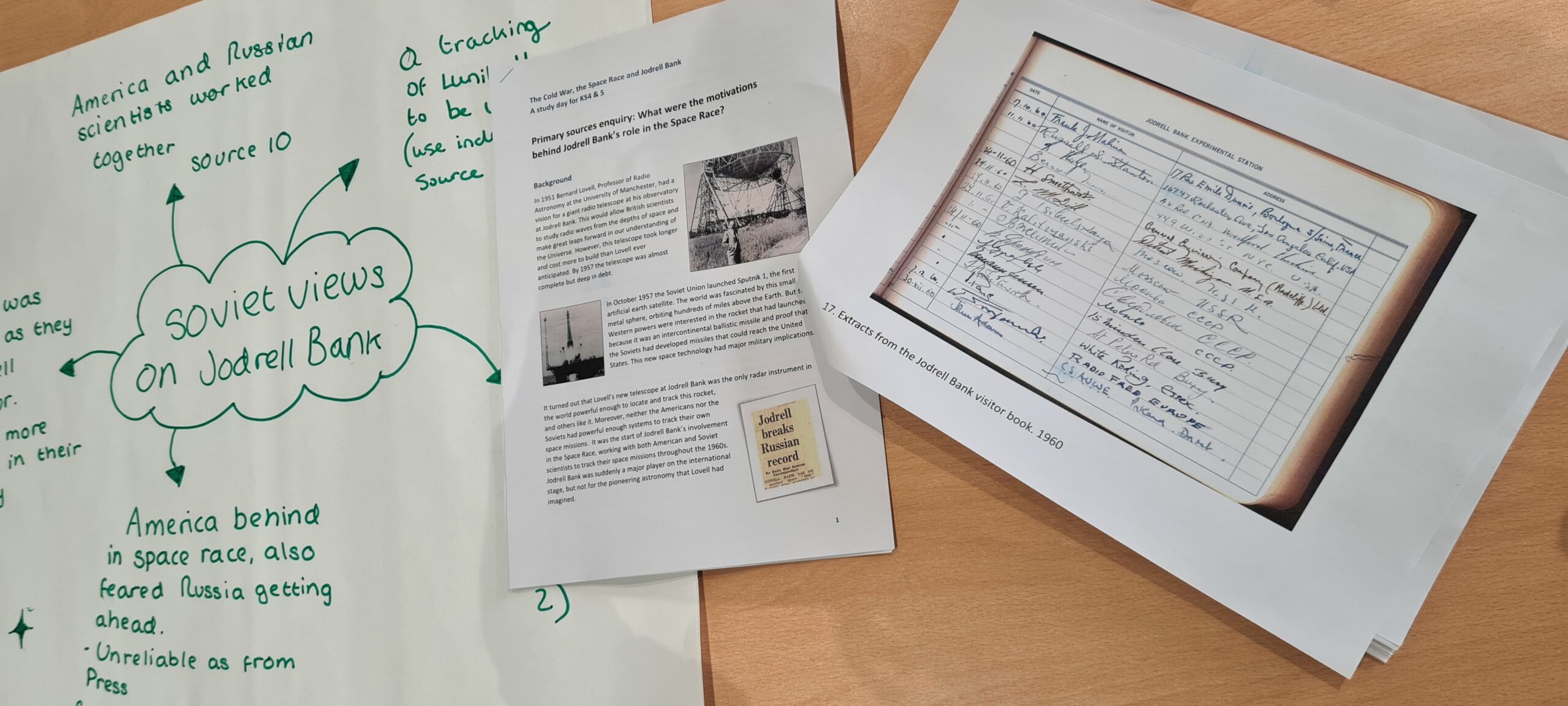 More from Jodrell Bank
How curious...