First Light: Architectural Reveal
Posted 26 May, 2022
The architecture for our new First Light Pavilion, designed by international design firm Hassell is based on a modern re-working of the meridian line.
Designed as a grassy mound rising from the landscape — a structure which references both the shape and exact size of the 76.2m diameter dish of the nearby Lovell Telescope — the curved concrete entrance to the pavilion mirrors the arc of the sun. Facing due south at an angle of 53º the sculptural opening to the building sits perpendicular to the celestial equinox.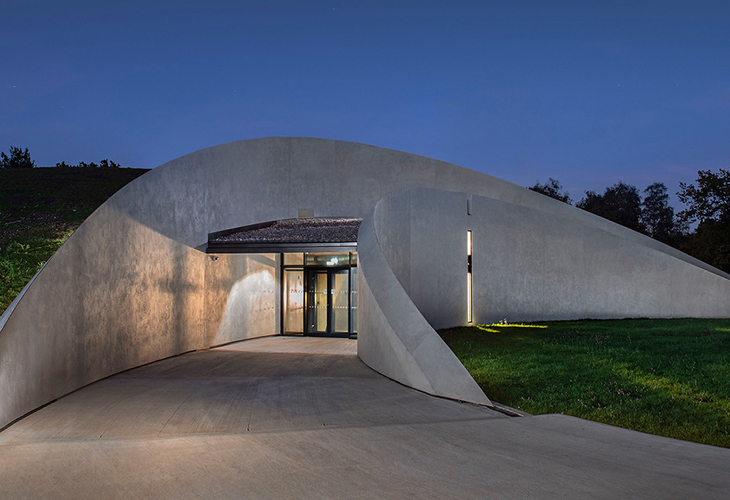 Reinforcing the pavilion's cosmic connection is a slim, glass cut-out on the south-facing concrete wall, which mimics a meridian line and also acts as a unique sun dial. Inside the building, the narrow window creates a ray of light that tracks the time of day via the sweep of the sun's path — and the time of year by the linear length of the light.
"The completion of the First Light Pavilion marks a new era for Jodrell Bank. We have embraced the challenge to push the boundaries of design to deliver what will undoubtedly be a truly exceptional experience for all who visit this remarkable site."
Julian Gitsham, Principal and project lead at Hassell
At the heart of the building is the exhibition and the auditorium, encased within a cylindrical 'drum' in the centre of the mound. The 150-seat capacity auditorium 'pod' designed in collaboration with Casson Mann features a screen that curves over the seats, and a multi-media room houses special exhibitions and caters for night-sky projections. A café and circular courtyard, cut into the mound are orientated to align to the First Light's tracking of Russia's Sputnik at 102° from Azimuth.
In addition to taking inspiration from Jodrell Bank's site, Hassell's design for First Light was influenced by a range of sculptures, structures and natural landforms from around the world, ranging from ancient monuments such as Newgrange in Ireland, to the renowned circular Fuji Kindergarten in Tokyo.
More from Jodrell Bank
How curious...