Bluedot Science – The University of Manchester
Posted 20 Jul, 2023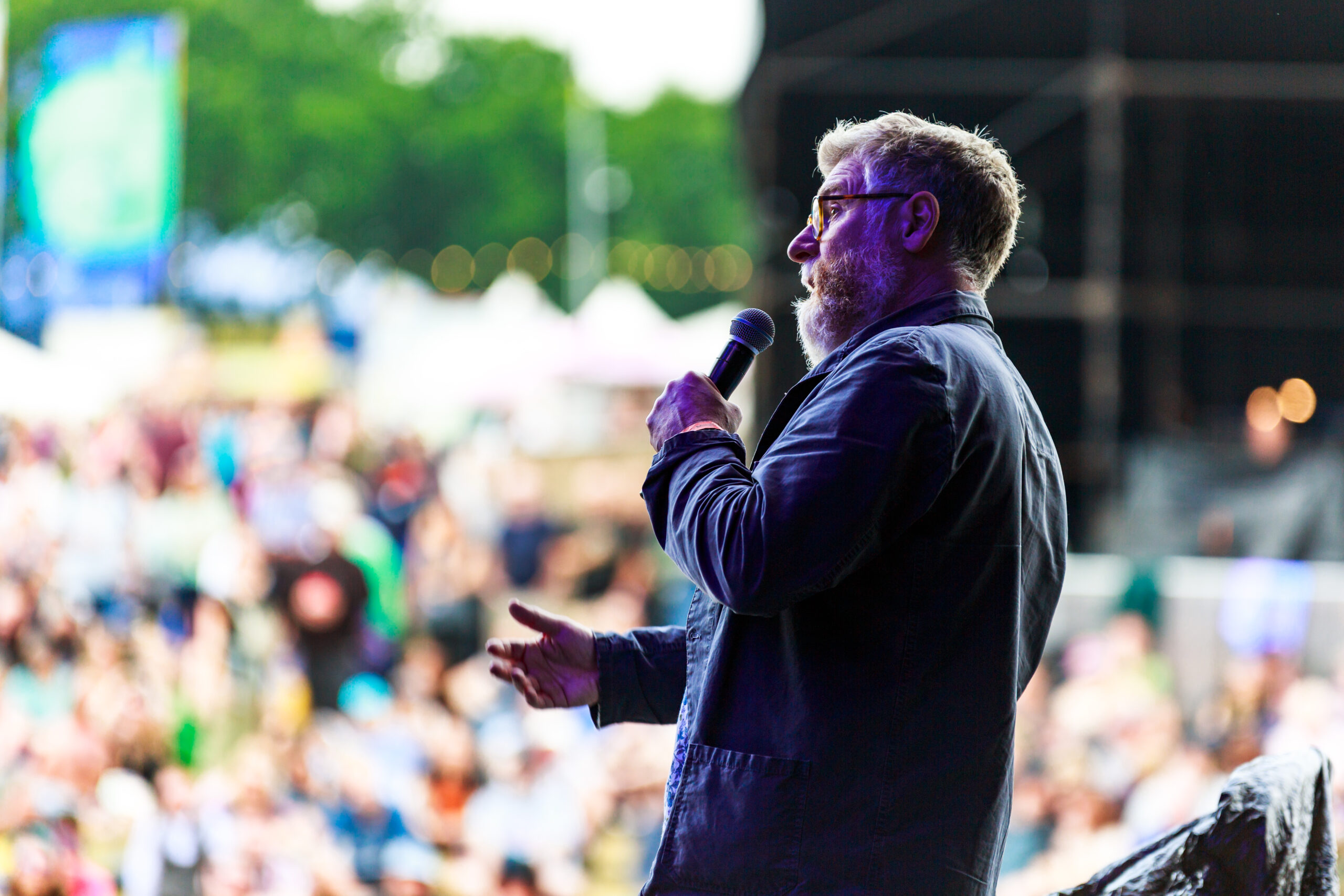 Bluedot X University of Manchester
Bluedot festival is a fantastic initiative, delivered at and around the University of Manchester's Jodrell Bank campus.
In particular, our team at the Jodrell Bank Centre for Engagement, one of the University's Cultural Institutions, curate the science and cultural content that gives the festival its unique character.
This year, as usual, we have a huge number of University colleagues participating in the festival, showcasing their work and engaging with the public in new and innovative ways.
You could spend the whole weekend finding out about University of Manchester research, so map out your plan for the talks programme using the links below.
We look forward to seeing you at bluedot!
On Friday
Matthew Cobb is first up for the University, with a look at genetic engineering (Mission Control 12noon)
Also at 12noon, there is the first chance to Sing Yourself Healthy with the SHE choir (Notes 12noon)
Rowan Smith is first up for the Jodrell Bank Centre for Astrophysics, with Beads on a String: How stars form in galaxies (Mission Control 2pm)
She is followed by Philippa Browning talking about The weather in space – solar flares and their effects on Earth(Mission Control 3pm)
And the University's talks finish that day with Tim O'Brien on the main music stage welcoming everyone to Jodrell Bank (Lovell Stage 5pm), together with
Sheena Cruickshank talking about Immune boosting – Fact or Fiction? (Mission Control 5pm)
On Saturday
Get up bright and early to hear Albert Zjilstra speak about The Life and Death of Stars (Star Pavilion 10am), then zip over to the nearby Notes stage to to Sing Yourself Healthy with the SHE choir (Notes 11am).
The first of Creative Manchester's curated events is a panel on the 'Collision' book produced in collaboration between CERN scientists and Comma Press (Star Pavilion 12noon). After that, Jodrell Bank Observatory Director, Simon Garrington, will give a talk titled From Sputnik to space debris: Jodrell Bank's (often secret) role in Space (Star Pavilion 1pm). At 1pm, Sheena Cruickshank has convened a panel from the Independent Sage group of scientists (Notes 1pm)
At 2pm, Simon Garrington joins a panel of experts to discuss the issues highlighted by the 'Our Fragile Space' exhibition (Star Pavilion 2pm).
After that, Tim O'Brien takes to the Main Stage for bluedot's traditional 'science' session (Lovell Stage 3.30pm)
Two scientists from the Jodrell Bank Centre for Astrophysics speak after each other in the Star Pavilion Lina Levin Preston tells us about Searching for pulsars with the world's largest radio telescopes (Star Pavilion 5pm) and  Inés Pastor- Marazuela explains Fast Radio Bursts – An Extra-Galactic Mystery (Star Pavilion 6pm)
Finally, Jodrell Bank Centre for Engagement's Teresa Anderson is 'In Conversation' with Sarah Roberts, Chief Exec of Practical Action to celebrate 50 years of 'Small is Beautiful' (Notes Stage 6pm)
On Sunday
Start your day with Laura Wolz's talk Building the cosmic web out of thin air (Star Pavilion 10am).
At 11am we tackle the big questions, with Teresa Anderson chairing a panel on 'How to Save the Planet' (Star Pavilion 11am).
After that, JBCA's Chris Conselice explains How galaxies tell us everything we want to know (Star Pavilion 12noon)
More from Jodrell Bank
How curious...