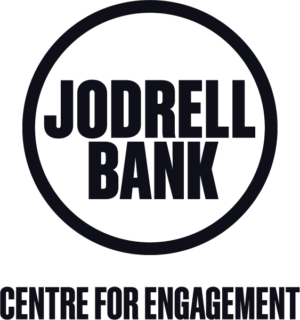 We are The Jodrell Bank Centre for Engagement, we connect people with the science and stories of this important site.
The Jodrell Bank Centre for Engagement is part of The University of Manchester. We work alongside The Jodrell Bank Centre for Astrophysics to protect and maintain this internationally significant site for the benefit of all. In our public-facing role, we take pride in managing the Jodrell Bank visitor attraction, engagement programme and public brand. We do this by delivering inspirational exhibitions, festivals, activities, experiences and learning opportunities for the benefit of everyone.
Engagement
Jodrell Bank has a long history of public engagement. Its founder, Sir Bernard Lovell was a great orator and an undisputed showman. He understood the great power and benefit of creating moments of wonder and we proudly pick up his baton to help pass on that spark of inspiration to others. We are multi-award winning and highly regarded as a centre of excellence in public engagement and our rich and varied programme that ranges from formal education to immersive festival experiences is testament to our ability.
Experience
We recognise that every visitor to Jodrell Bank is investing their time, energy and money in us and we take that responsibility very seriously. We facilitate a seamless and wonder-filled journey of discovery at Jodrell Bank, helping to create cherished memories. Many of our visitors can recall their childhood trips here and return years later with their own children and even grandchildren.
Enterprise
The Jodrell Bank Centre for Engagement operates as a social enterprise. We rely on the funds raised through admission tickets, events, room hires, retail and catering. As a result, we are commercially savvy and industrious but we are also socially aware and ensure our activity is always ethically sound, diligent, and conscientious.